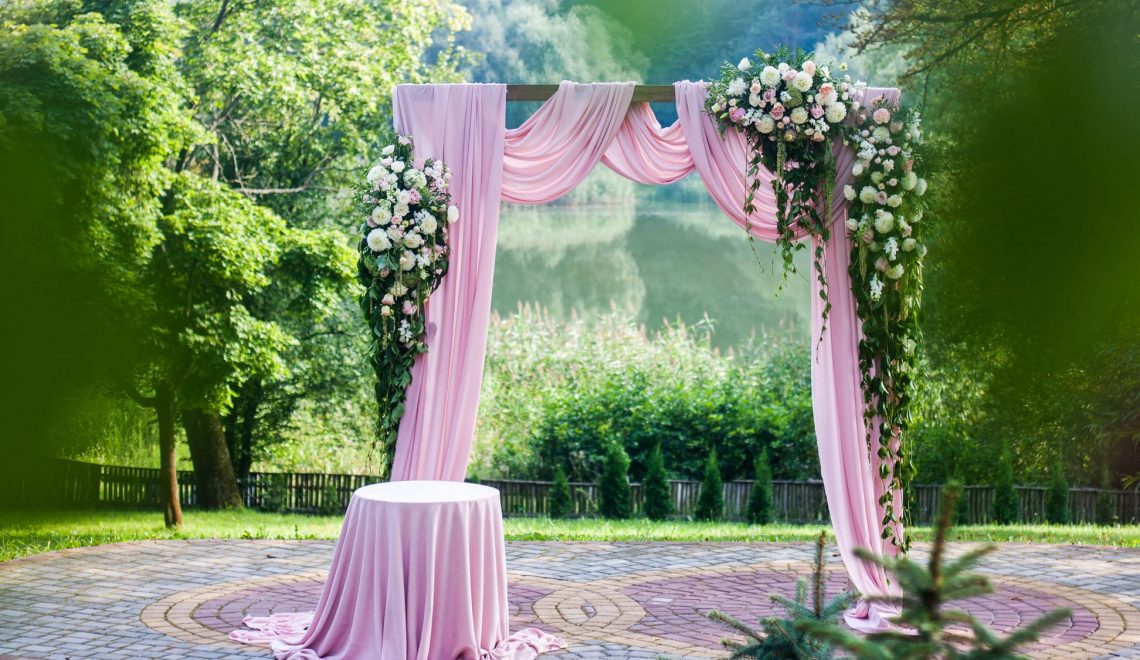 If you are planning on having a DIY garden wedding, then you should go one better and create a theme to make it all the more special. A garden offers so much opportunity to explore a number of unique and romantic wedding themes, and in this article, we are going to share some of them with you. Hopefully, you'll be full of inspiration and ready to start planning your special day in a very special way!
Unique and Romantic DIY Garden Wedding Theme Ideas
There are some truly unique and romantic themes that you can explore. And don't be afraid to mix and match to make it your own.
1 – Enchanted garden wedding theme
An enchanted garden wedding theme is a really beautiful and whimsical idea that works wonderfully for weddings. Imagine little glass jars wrapped in ivy and filled with fairy lights; hanging lanterns with glass beads and baubles; rusting garden chairs with twisting vine-designs; old hanging trees wrapped in lights, and so on. This secret garden wedding theme can truly bring the magic!
2 – Hidden tropical paradise garden wedding theme
Another great garden wedding theme idea is a hidden tropical paradise. With a gorgeous Australian summer and a nice, spacious garden with plenty of green, this should be easy enough to pull off! Imagine lines of tiki torches glowing away in the evening; hollowed out coconuts with fairy lights centred on your tropical-themed tables; glass bowls filled with seashells and colourful flowers; you could even scatter some bags of sand and add some water features. The hidden tropical paradise wedding theme is perfect for those who have always dreamt of tying the knot in paradise! Just be mindful of things like Sky Lanterns and understand that they are banned for a reason.
3 – High fantasy garden wedding theme
This might not be everyone's flagon of butter-beer, but for those of you with an inner-nerd, a high fantasy themed garden wedding can be so much fun! You could even encourage your guests to come in fancy dress, wearing over-the top gowns and frocks, the men in frilly shirts and top hats, and so on. Picture your in-laws dressed up like hobbits, or your annoying uncle with elf-ears! This theme can be a whole lot of fun!
4 – Aboriginal garden wedding theme
An aboriginal theme is a wonderful way for you to reconnect with the heart of Australia and explore a rich, cultural tapestry. With such colourful patterns and beautiful dot-work, decorating your garden to fit an aboriginal theme would look absolutely stunning!
5 – Classic country garden wedding theme
Or you can keep it nice and simple with a laid back, classic country theme. Imagine wheel-barrows filled with ice and beverages; benches and stools made from old logs; rich and vibrant floral displays; sign-posts etched from wood; fresh fruit and vegetables in wooden crates from local farmers; hay bales fashioned into seating areas; and old barrels fashioned into standing tables. This theme is fun, classy, and fits wonderfully into a garden setting.
6 – Victorian style garden wedding theme
Another popular wedding style for gardens is the Victorian theme. Imagine antique style dining areas; hanging ivy; golden candle holders and opulent centrepieces; top hats and corsets, and so on.
7 – Vampire themed garden wedding
The first rule to having a vampire themed garden wedding is providing a stunning gazebo under which guests can avoid the glare of the sun. Think deep and rich reds; rose decorations; gothic centre pieces; black wedding dress (in fact, a black attire only rule is advised); red coloured cocktails with blackberries; golden goblets and skulls etc. This kinda theme can be really fun, especially for those weddings taking place closer to October!

Garden wedding decoration ideas
Here are some wonderful ideas that you can try when decorating your garden wedding:
Romantic lighting: The great thing about garden weddings is that there is always plenty that you can hang stuff from. This means, plenty of opportunity for romantic lighting.
Floral deserts: For a garden wedding you really cannot have too many flowers! In keeping with this theme, why not serve delicious deserts and various treats with floral themes?
Floral designed menus and invitations: The best way to pull off a theme is to really drive it home and make it present everywhere. So, when sending out menus and wedding invitations, don't forget those floral accents to really set the scene.
Indoor garden gazebos: For weddings at certain times of the year when the weather is perhaps, more unpredictable, having a gazebo to provide shelter from the rain and cold is recommended. That said, you can still bring the garden inside with plenty of green.
Pressed flower decorations: One amazing style we came across was clear glass pressed together with flowers in between. This creates a truly stunning style and they make the best table numbers!
All of the green: Hanging ivy from chairs, dangling vines from trees with fair lights; there's so much opportunity in a garden wedding to turn that green into yet even more decoration.
Wear nature in your hair: For a garden wedding, as part of the vibe, why not consider having flowers in your hair? Having your hair fashioned by an experienced artist, with stunning floral accents will really complete the theme!
Hire a local wedding planner: If you find yourself stuck for ideas, hire a local wedding planner for some assistance!
Get created with your garden wedding decorations
For a DIY garden wedding, you really need to get creative and use your imagination. The good thing is that many of the key ingredients to decorating a garden wedding are already in your garden! You can even speak with friends and family who will be attending to ask if they can donate any old logs that they don't plan on using, and old mason jars for example, to fill with flowers and fairy lights.
Conclusion
And there we have it! We hope that some of these unique and romantic DIY garden wedding theme ideas have been helpful for you. Or that they've filled you with some inspiration at the least.
If you are feeling a little overwhelmed and would rather hire the professionals instead, a reputable wedding planner such as Bold Events will be able to take care of everything for you.
The most important thing, is that you enjoy the process and try not to stress too much! Your special day will arrive soon and then it's happy ever after!